Home
>
About our products
Framing Achievement, Inc. is pleased to present a remarkable collection of personalized picture frame gifts. Nothing makes a gift more special than an personalized message. We are able to personalized names, dates, poems, sentiments or any other message to make the picture frame gift unique and memorable.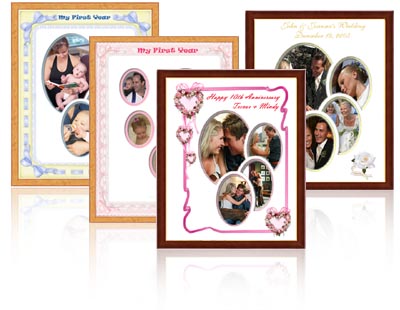 With Framing Achievement's picture frame mats, the creativity is unless. Framing Achievement's vast selections of picture frame mats truly encourages you to create the perfect frame for treasured photographs. The variations of Baby, Wedding, Anniversary and Birthday picture frame mat designs and personalization are both beautiful and unique. When combined with treasured photographs, they will add elegance to every corner of the home. Let your imagination wander and explore the possibilities that you can create with Framing Achievement's personalized picture frame mats.
We have a variety of high-end wood frames available. From brilliant satin smooth finish to shiny lacquered diploma frames. Elegantly display your diploma with your college major seal, law or medical seal. These gold and color college major seals distinctively enhance your diploma. We are the largest Personalized diploma frame manufacturer in America. Build your personalized diploma frame today at framingachievement.com.
Our diploma frame facility produce personalized diploma frame and picture frame service for graduation, weddings, photography, birthdays, anniversaries, military, retirements, baby showers, sports, corporate etc. Our personalized gifts are a remembrance of proud accomplishments. We offer diploma and certificate frames for colleges, universities, high schools, and professional degrees. Our diploma frames and certificate frames are affordable. Framing Achievement, Inc. manufactures diploma and award frames. We wholesale and retail picture frames to universities worldwide. Build your personalized diploma frame at our website. We also sell graduation portrait picture frame with tassel box.
Graduation Frames and diploma frames are always best deals at framingachievement.com. These personalized gifts will let you remember your graduation day. Graduation day will be celebrated forever with your university picture frame. In addition, your graduation day will be celebrated forever with your favorite graduate's picture inside diploma frame.

Rewards, Recognition, Special Events, Wedding, New Baby, Anniversary and Corporate Frames - features your custom gold crest or insignia on a mat. Customized gold lettering to your specifications.
Attorney Gifts - These Great Documents of U.S. History are excellent gifts of history for law professionals. Our products are seen in the United States District Court Systems.
Award Frames - We are pleased to bring you the finest custom collection of employee awards and recognition frames. Recognition Awards are needed to acknowledge people's accomplishments.
Custom Picture Frames - Do you have a poster, photograph, canvas, or jersey you need to frame? We are your source to custom framing. We can frame almost anything you have in mind.
Wholesale Picture Frames - We are pleased to supply the finest collection of high quality glossy lacquered wood mouldings for the framing industry. We also supply wholesale certificate and diploma frames to many universities. Poetry gifts - We sell poetry gifts for weddings, anniversaries, birthdays, graduation, valentines day, mothers day, fathers day. Wedding signature frames are picture frames are also available.
College picture frame - A picture is worth a thousand words. Framing Achievement, Inc. capture those special moments and frame it with truly unique wedding signature frames. We've put together a collection of many unique personalized collage picture frames that will add charm to every corner of the home and will delight every newly married couples. Add a personal touch and imprint the family name or any other special message on the picture frames. Unique personalized picture frames for all occasions. Personalize photo frames are available at any size.

Wedding Signature picture frames make wonderful keepsakes for all special occasions. These signature frames are great for wedding, bridal showers, corporate parties and baby showers. This beautiful signature frame is a beautiful way to display a wedding photo of your wife and husband with wedding guest signatures around your photos. This beautiful photo frame is highly glossy or with satin finish. Available in your choice of Premium wood picture frame mouldings. We offer the finest quality of wedding picture frames. Comes Beautifully completed with custom mat and picture frames. The signature picture frames has many designs for you to choose. The cutout window in the wedding signature picture frame is available for personalization. Signature Frame is a wonderful way to capture the memory of your special wedding day with the signatures of your guests. Our elegant signature frame is beautifully framed with a photo opening for the bride and groom surrounded by guest expressions of their wishes. Lovely Precious Moments wedding signature picture Frames. The Groom and Bride surrounded by wedding guest signature on a framed heart shaped collage that is accented with lovely wedding flowers. Perfect for displaying your love and wedding day never ends. These wedding picture frames help newlyweds remember the love expressed on their wedding day with our elegant wedding photo frame. The personalized wedding frame can be personalized with names and dates. Wedding can only be embellished by your own personalized memories placed inside the wedding photo frame. Engravable wedding photo frame with wedding guest signatures. The bride and groom photo in a heart collage in the signature frame. From the engagement to the honeymoon, celebrate all your joy and special moments in our beautiful wedding memory signature picture frame. For life's sweetest moments, frame your wedding photos in our unique wedding picture frame. Showcase memories of your wedding day in our elegant photo frame Wedding day photo frame. Heart Shaped photo collage signature frame for weddings, anniversaries, retirements, etc…


Framing Achievement, Inc. quick links
Browse Personalized Photo Mats