Collection Name: Glossy Prestige Mahogany Lacquered Wood Moulding
Description: 1 3/4" Clam Shell Profile, Natural Wood Glossy Prestige Mahogany with gold accents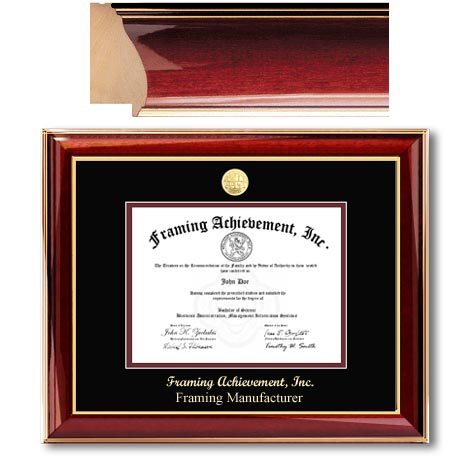 We sell Coast Guard and Marines Gifts. Our Coast Guard picture frames make excellent gifts for your military hero. The personalized Marines picture frames will make a unique gift idea for retirements. Coast Guard gift photo frames and Marines picture frames are available for personalization. We offer military gift ideas for Coast Guard and Coast Guard soldiers. Frame their certificates, awards and medal awards in our quality military picture frame. We sell United States Coast Guard picture frames. We offer Coast Guard picture frames. We wholesale Coast Guard photo frames and certificate frames. We offer Coast Guard photo frames. All military picture frames are available for personalization. These military picture frames make great gifts for Coast Guard officers. The personalize military picture frames will look great in a office. Cheap military gifts and affordable military picture frames are sold at Framing Achievement. Offering military medal frames and picture frames.
Frame a Name Photo Mats, Frames Baby Frame We retail and wholesale collage picture frame and personalized picture frame. Our products includes collage photo frame and engraved picture frames To order your custom diploma frame simply click on the Buy button. The wooden diploma frames are remarkable with the university print and portrait photo. Many college diploma frames are available with professional a selection of campus photos. Diploma frames with tassel box are also available. Share the joy of giving and expressing your gratitude by framing a picture of your military hero in an elegant military picture frame by Framing Achievement, Inc. We offer a wide selection of military retirement gifts and personalized picture frames. We manufacture high quality premium personalized military picture frames and military discharge certificate frames which make excellent military retirement gifts, military graduation gifts and military award gifts.

Framing Achievement, Inc. is the premier military picture frame manufacturing company, offering the world's largest selection of personalized military certificate frame, military photo frame, military award frame, military medal frame, military personalized gifts, marines frame, usmc frame, navy frame, air force frame, usaf frames, coast guard frame and army frames. The personalization military gift ideas are endless. These military frames will also make great corporate gifts, thank you gifts, get well gifts, sympathy gift baskets, holiday gift and business gifts.

Whether you're looking for elegant military gift ideas, personalized gifts, wedding gifts, anniversary gifts, unique gifts, graduation gifts, law gifts, baby gifts or simply personalize gifts, Framing Achievement, Inc, can help. Let us be your online military gift shop and personalize picture frame manufacturer assisting you in finding your personalized military gifts online.